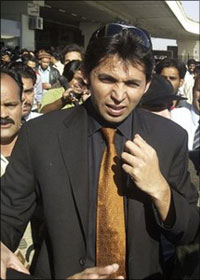 Islamabad: The Pakistan Cricket Board has asked the Indian Premier League to revise the one-year ban on fast bowler Mohammad Asif, a top official of the PCB said Friday. 
"Since Asif was tested positive in July last year we want the IPL to end his ban on July 15," PCB chairman Ijaz Butt told the Associated Press. 
"We have written a letter to Lalit Modi (IPL Commissioner) to look into this matter." 
I won't be part of the T20 team: Tendulkar | More cricket news 
Asif was formally banned for one year from the lucrative IPL on Wednesday after testing positive for nandrolone during last year's inaugural tournament. 
The ban means the 26-year-old Pakistan paceman will be ineligible for IPL or any other international or first-class cricket until September 21, taking in the entirety of the second season of the Twenty20 competition. 
"We received a letter about Asif's positive dope test on July 15 last year and we want his ban to start from this date instead of September 21," Butt said. 
The PCB, keen to have Asif back as soon as possible, had already said he will be considered for selection once his ban ends. 
Asif was embroiled in another drug controversy last year, when he was detained in the United Arab Emirates for 19 days in June after 0.24 grams of opium were found in his wallet at Dubai Airport during a stop over on his way home from the IPL competition. 
In Images : IPL badshahs | Full Coverage: IPL 2009 
The PCB has formed a three-member committee with former test wicketkeeper Wasim Bari as its chairman to look into Asif's Dubai detention. The committee is likely to submit its findings by the end of this month. 
In 2006, Asif was suspended for one year by the Pakistan Cricket Board after testing positive for nandrolone, but the ban was overturned on appeal.